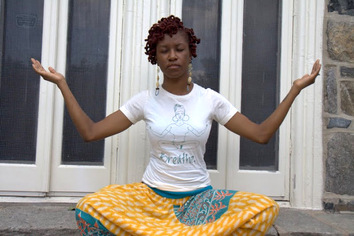 Yes… I said superpower. Why, you ask? Well, we were all gifted this amazing ability to be led calmly in our mind, body and spirit, but we don't use it! There is no need for fancy equipment or even a cape to regain access. You were actually born into the world with this power and you probably forgot how to use it as you matured and experienced varied stressors.
Your breath is your superpower.
Every day, you take between 17,000-30,000 unique breaths, and most of us do so mindlessly. It's a shame because if we decided to master our breathing, being mindful for a few moments throughout our day, it could, quite frankly, change our whole lives.
Nope. I am not exaggerating. Our breath is the driving force for our life, health and vitality. If we weren't breathing… well.. we would "be." Our breath, sends signals to our muscles and our brain about our safety. So, we must ask ourselves, what messages are we sending to our bodies with our breath?
Take a moment and notice your breath. How does it feel? How does your body respond? Then, take note of what part of your body rises, and falls with each inhalation. If your chest rose during your inhalation, what you are experiencing is 'Stress Breathing.' Don't be alarmed though, this is an easy fix. Think about it, when a baby is first born and they are laying on their back, if you watch them breathe, their belly is what rises and falls. That, my sista, is how the Creator intends for us to breathe healthily. When we experience stressful events, overtime, our bodies remain in a stressed state and conform to the "Stress Breaths". So, now, place your hand below your belly button and fill your stomach with air on the inhale. Hold it for a moment, then release. Repeat this 3-9xs. Be gentle with yourself as you allow your body to get reacquainted with the exercise. This is what we call, Diaphragmatic Breathing. This signals to our bodies that we are indeed safe, and that we can return to a relaxed state.
This is a superpower because, when used intentionally we can:
1.      Let Go: Release negative energy on the exhale and become positive energy on the inhale.
2.     Get Centered: Focus on and get grounded in our breathing to slow us down, to calm our nerves.
3.     Get In Control: Make sound decisions when in stressful situations
4.     Rest Well: Improve our ability to fall asleep by being with our rhythmic breathing
5.     Experience Calm: When exercised overtime, relax our muscles
And that's the short list! We can also support our loved ones in mastering this power. When consoling our loved ones, we can coach them to breath deeply with their belly, to support them in soothing themselves. Watch the children in your life and model for them how to breathe appropriately; this will help them regulate their emotions in the long run.
Self Care is a consistent and necessary decision. 
Luckily, this superpower is invisible! No one has to know what you're doing to keep your cool when someone "get's out the gate" or goes "O-F-F" on you. What they will see is you choosing you; refraining from the cursing and impulsive responses. You will remain in control… You will keep your power by settling into your Breath and sharing the love with those around you.
One of the methods I use to practice breathing is QiGong. QiGong (pronounced Chi gong) is an ancient Chinese healing modality that integrates gentle movements, breathing techniques and intention. Over 2,500 years old, these exercises have been known to improve posture, support relaxation, prevent illness, improve sleep and nourish your organs!
Are you ready to make self-care a priority in your life?
I'm hosting a LIVE 4-week course for participants who commit to this Healing experience will learn simple QiGong Movements, Ancient Healing Sounds, Sitting/Standing and Moving Meditations for daily life.

Class will occur weekly on Thursdays and will begin at 6:30pm-8:00pm (June 16, June 23, June 30, July 7).
The investment is $60. Space is limited. Click here to register now.